Becoming a leader means putting ourselves in a complicated situation. Just imagine, a leader must control everything, take the responsibility in either the business improvement or the team members, become the decision maker and role model in the business.


So, how to be a respectful and work well leader in a team?
The following below are tips for you to be a good leader in your business.
1. Focus on Your Employees Strength
Source: Freepik

You have to understand the strengths and weaknesses of each employee. A wise leader would understand that each employee can't be perfect.
Therefore, a leader wouldn't force the employees to do something they don't master. Although it could be a good thing to improve their abilities, it can be a serious obstacle because it's wasting.
When an employee makes a mistake, just focus on his strength and remember that no one is perfect.
So, as a good leader, you need to find out what strengths your employees have and give them the best role in your business.
Read: Boost Business with Business Digitalization



2. Becoming A Mentor
Source : Freepik

A leader is not just a boss. He must be able to teach, treat, help and direct the employees to do the best thing.
A bad thing that usually a leader does is become too bossy. He gives too many jobs that the employees don't master without a good explanation.
Sometimes as a leader you have to give stimulants to your employees by giving an opportunity to improve their ability and solve their problems.
3. Becoming Fair to All employees
Source : Freepik

It's not a secret that better employees have higher justification in a company. A smart, diligent, solutive and initiative employee must have special attention from his leader.
But it doesn't mean that you can be partial. Because you will get disrespectful and make the business run heavily if the other employees notice that.


4. Know the Employees Character
Source:Freepik

If you are fair enough to your employees, you will understand your employees' character little by little. And you will be open and know your employees well.
In addition, one of leader's character is able to understand and have a good relationship with the employees
5. Give the Employees Opportunity to Improve
Source:Freepik

A good leader must give the opportunity to the employees to improve and have the best performance with their new skills and knowledge. Encourage, motivate and appreciate the employees who get achievement.
Also Read: Employees Salary Structure for Indonesian Company



6. Becoming Friendly and Humble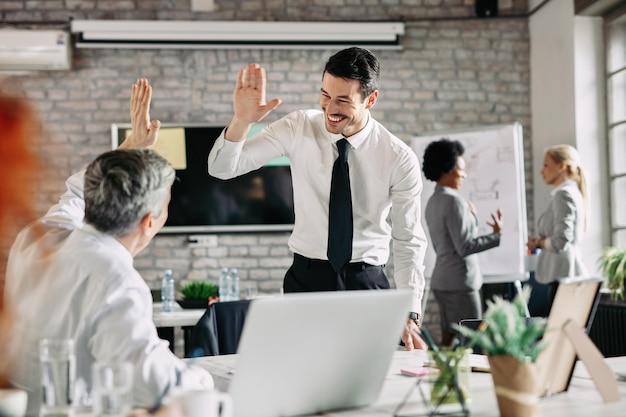 Source: Freepik

You have power and control as a leader for everything in your company environment.
But, there are a lot of people who have control as leaders, abuse their position and become arrogant. 
This kind of leader should be replaced as soon as possible. Higher position you get they should be more humble, careful, polite and friendly. Your attitude influences your employees.
7. Becoming a Good Listener
Source : Freepik
Every job creates problems. As a leader you have to put yourself as a listener for your employees. Don't be judgemental.
A good leader even has a discussion with his employees to get the best way to solve the problem without wasting time.
SCALE UP YOUR BUSINESS LEVEL WITH PANEMU

8. Control Your Emotion
Source: Freepik

Your emotions get bad when something bad happens in your company environment. It's normal. But as a good leader you need to control your emotions to face the problem wisely without swearing.
If you let your emotions control yourself, it will affect the employees' emotions and they will feel uncomfortable.
9. Love Discussion
Source: Freepik
Ask your employees to have discussions about your business as a way to improve your business performance. Through the discussion you will get something new from your employees' point of views that is important for your business.
10. Making a Comfortable Work Environment
Source: Freepik
Comfortable work environment is a dream for employees. It's really a dream that the can work in a comfortable workplace. With a comfortable work environment, you will get something fresh to improve your business performance.
Those are tips you can apply to yourself. Watch your attitude and become a respectful leader for your employees.
To make yourself easier to do your work as a responsible leader, you need to digitalize your business soon. By digitalizing your business you can easily monitor your business performance and your employees.

CONSULT YOUR BUSINESS DIGITALIZATION FOR FREE!