Technology used in daily life and business of course aim to increase work productivity. One of which is Human Resources Management System (HRMS). HRMS also known as 'HR Tools'. But actually, this system can be used by every department inside the company.

HRMS software is a business software like Odoo which now starting to be used by many companies to manage their human resources. If your company plans or already uses this software, you need to understand the benefits, so you can maximize the features for your company's productivity.

"Odoo, Online HRMS Software to make HR life easier. Learn More Now!"
What is HRMS
HRMS is Human Resources Management System. According to the name, this software is a platform to input and manage HR data. Including payroll and other functions related to government regulations.

This system capable to save all data and give tracking facility until employees data analytics. So HR division can do data processing automatically. In the digital age, HRMS data storage is automatically and kept safe in the cloud.
HRMS Features
There is a lot of vendors that already build HRMS software. One of them is Odoo HRMS solutions that be a part of Odoo ERP.

However, there are some features that the system must-have. Some of them are:
Master Data Employee
Organizational management
Employees Self Service
Attendance and Leave/Time Off
Contracts and Salary
Recruitment and Training
Workflow and Approval
Employee Performance
Appraisal
Payroll
Wage and Timesheets Management
From all of the features above, some of them only used by HR Department only. But some features are possible to be used by other departments to increase employees productivity.

For the benefits of HRMS for your company, let's go to the next part below
Benefits of HRMS for your Company
Attendance
By using attendance module as in Odoo HRMS solution, employees attendance is easier. Especially if there are some employees who work from home (WFH).

Besides that, on attendance feature there is security from data falsification with the employee barcode and PIN or integration with fingerprint machine. And also, attendance feature can be accessed from employees' mobile devices.

Leaves and Time Off
Controlling time off and leaves manually will take time and and human error prone. By using HRMS, HR and managers can set up approval workflow and time off limits for each employee and department easily. Besides that, employees can submit time off and see their limits easily.

Submit and approval process also can be done online, its save more time
​
Company Announcement

Announcement like days off, meetings and employees event also assignment will be dangerous to be missed. Manual announcement usually doesn't delivered to all employees. But by using HRMS, you don't need to be worried anymore. It is because announcements, schedules and assignments appear on the employees dashboard. 

Integration Between Employees

HRMS gives full information about your colleague schedule, especially when some of them are off. With this information, schedule meetings will be easier. Especially if some employees are WFH or overseas who usually have different days off.

Payroll Management

HRMS has payroll feature that make it easier while managing employees' salaries. It is not only automated salary computation, you can also compute Indonesian salary tax and health also employment insurance (BPJS). For more info about payroll management, you can reach us out to try Odoo HRMS with Panemu.

Easy and Measurable Appraisal

Appraisal process other than measuring employees feedback and goals achievement, usually also gather 360 feedback from the manager and colleague. If you do it manually, it will take time and be afraid of document loss. With the appraisal module on HRMS, you can manage all documents and processes and also schedule appraisal interviews from one dashboard.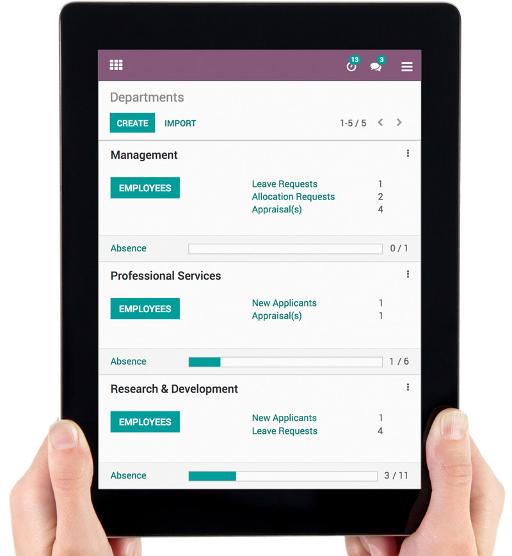 Odoo HRMS with Panemu
"Keep your business productivity with Odoo HRMS easy and automatic solutions. Learn Odoo HRMS features with Panemu Now!"
Make sure that you choose HRMS software that gives good quality and services provided. One of HRMS solutions best partner is Panemu which official partner of Odoo ERP.
We provide Odoo HRMS solutions including Indonesian payslip and customizable as per your company needs.
TRY IT FREE NOW!